Since before the war, the Citroën spare part service was divided in sections - named "Rayons", meaning "departments" of the stock. This system was phased out around 1970, and in itself, it has no practical relevance today, but we give it a little attention here anyway, because it helps shed some light on how later (still relevant) groupings of the spare parts came to be, and it helps us get a picture of how different the world was before computers and plastic wrapping.

If you were to order a spare part from the Citroën central spare parts service in Paris, it was not enough to know the spare part number. You also needed to know to which"rayon" - department of the service - you should address your order.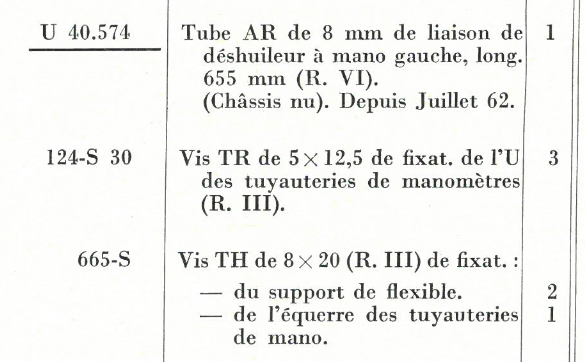 This classification was visible in the spare parts catalogues as each of the four main rayons (I, II, III, IV) had their separate sections in the catalogues with pages in four separate colours (yellow, white, green and pink). In each of these sections, all the parts generally belonged to the corresponding rayon, if nothing else was noted. Beyond these four main rayons, there were two more: rayon VI and "large parts".
If a particular part belonged to another rayon than the section, in which it appeared in the catalogue, this was marked by a parenthesis with an R. followed by the number of that rayon, for instance (R. VI). If and when a part belonged to the "large parts" rayon is difficult to see in the catalogues, but I presume a trained spare parts assistant at any Citroën dealership know this by intuition.
If you have an original catalogue in your hand, the colours of the four sections are usually faded beyond recognition, and in the various copies and scanning most of us have access to, there is no trace of them whatsoever. Therefore, we have to look in the table of contents at the start of the catalogue, find out where the sections start and end.
Everyone ordering spare parts were required to fill out and send separate lists for each rayon. Pre-printed forms had even been distributed for this purpose. It seems a bit troublesome, but this gave Citroën the possibility to divide the spare parts service in different departments (maybe even different buildings) that could be specialized in, for instance, large and heavy items (that needed hoists and trollies) or perhaps parts that needed cleanliness, like interior trim. Before the age of plastic wrapping, parts like seat covers and fabric lining in pale colours, could not be handled by people with dirty fingers.
Today, it may appear strange, that Citroën in this way involved the clients in how the stock was organized internally. We would otherwise expect that you could submit oue collected list with all your orders to Citroën, which would then take care of the internal workflow behind the scenes. Before the advent of computers, however, this would require someone in Citroën to copy the orders - by hand or by typewriter - with all the errors that this extra step could introduce. Apparently, it was deemed better by Citroën to delegate this responsibility to the clients, where there were normally, after all, dedicated people doing the ordering of spare parts.
All of this has probably only had any relevance for those ordering spare parts with "the factory" - meaning dealerships in France and the importers in all countries. In Denmark, dealers sent collected orders on single sheets of paper to the Danish importer (the daughter-company Citroën Danmark) with no division into rayons. This can be seen from the pre-printed order form shown here below. From its typeface and logo, we can clearly see that it is from the era when the rayon system was still in use in France. Dilligent clerks at the Danish importer must then have copied these orders to the different new rayon-specific order sheets.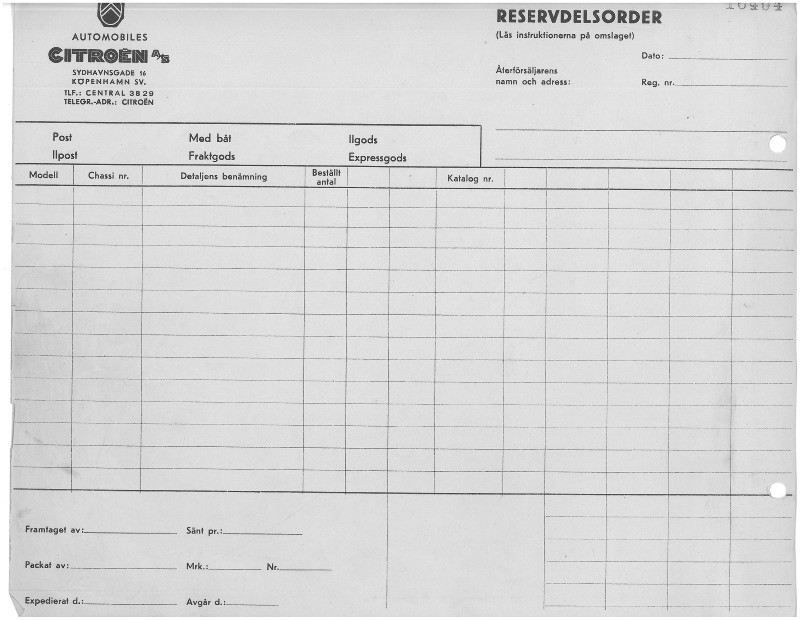 Another example of an even more simple order form from the Danish Citroën importer - possibly mostly for noting down fast telephone orders - which also has no place to write anything abount rayons. The date of this form is, however, more uncertain.