---

PR numbers
During the lifetime of a car model, it often happens that some part is replaced by another. That does not only take place at the turn of the model year or at the introduction of a new version of the model. Therefore, when determining what spare part to use, you often need to know when the change took place and when exactly in comparison to this, your car was produced. Here is an overview of what this looked like in the spare parts catalogues and how to find production dates for some (but not all) of the models.
Modification dates and time specifications in the catalogues
In the 1920's there were no time specifications in the catalogues. It could look as though a model was not modified at all when the production was running. That would have been in the spirit of André Citroën: Standardization, simplification, serial production. The need for modifications may not have been that great, considering that models were replaced by new ones already after 2-3 years.
Nevertheless, changes have probably occurred along the way, since a spare part order at that time should always be accompanied by information about model and chassis number. The purpose of this could of course have been to catch wrong orders and maybe keep track of variations of the quality of parts over time, but it could also be thinkable that parts kept their numbers over time and the people at the spare parts service took care to send an old or new version of the part, depending on the chassis number. This last theory may seem far fetched, but it is on the other hand also strange indeed that there are no visible changes over time in any of the spare parts catalogues from the 1920's I have had access to.
Here is an example from the big collected Citroën parts catalogue 1919-1928 where it is described in the preamble how to compile a spare parts order. It is mandatory to include chassis number and motor number.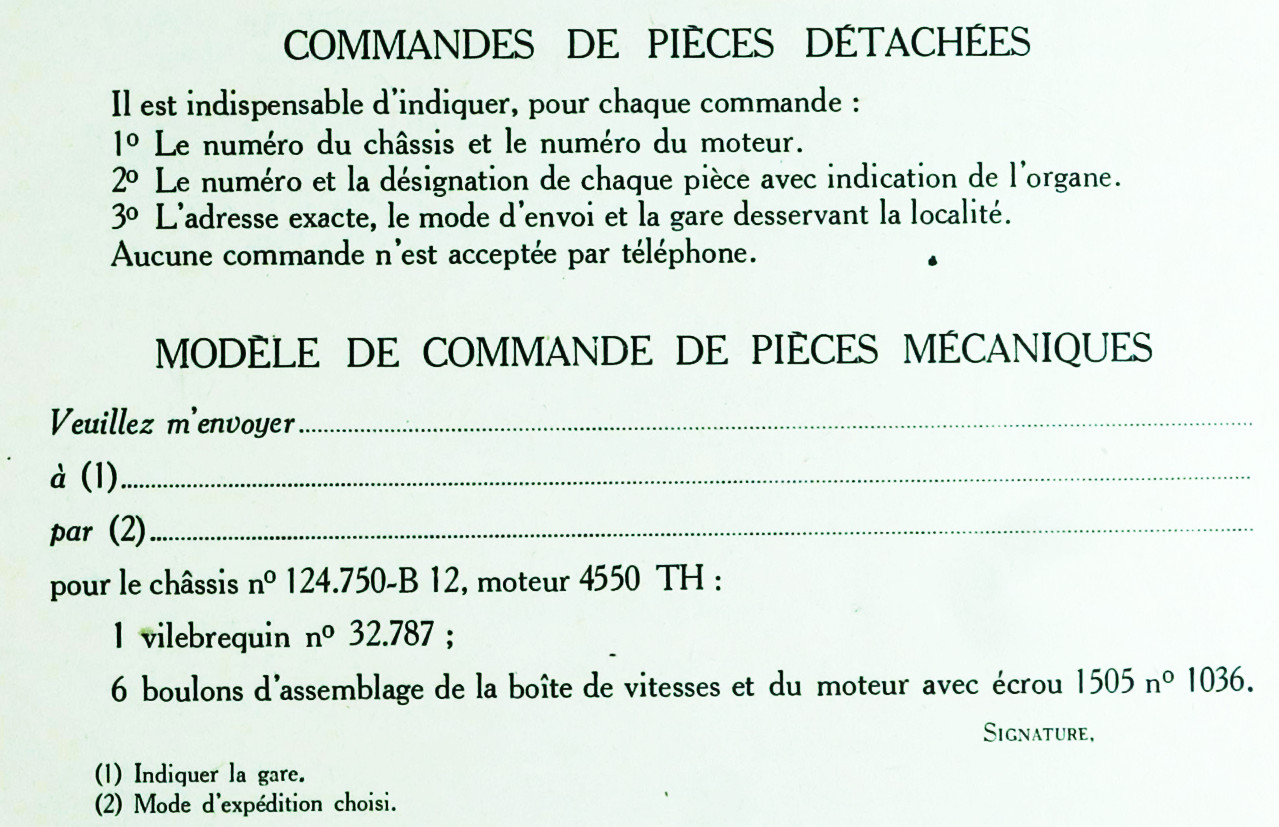 During the 1930's, changes over time begin to appear in the catalogues, but often as whole paragraphs with the change date note in the headline. The point in time of the change may even be as imprecise as being over the course of two months as in this example (from catalogue 393 from 1939).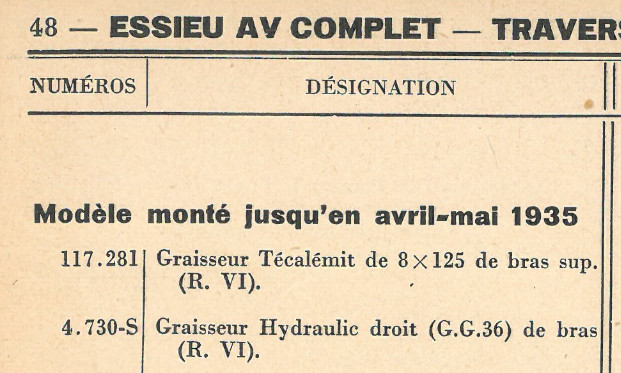 Later, the precision is usually better. Here is actually a particular date (15th of November 1939) in catalogue 438 from 1950, where the front wing valance for a Traction has changed shape.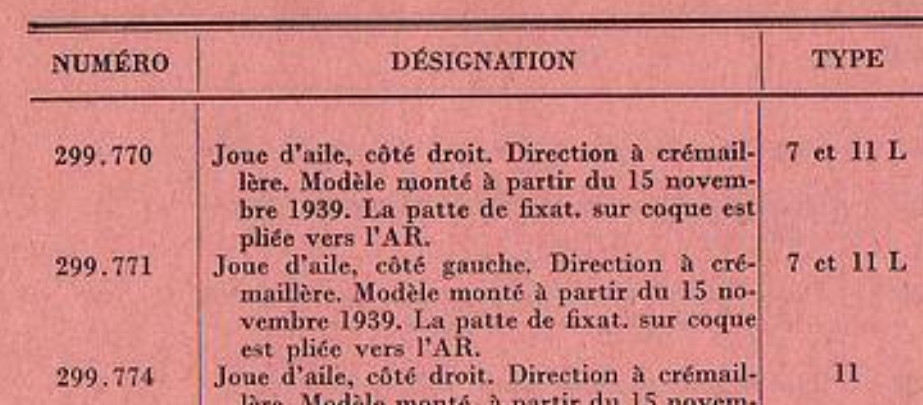 After the war and well into the 1980's, change dates were usually given as a month. There is, however, no information about which point in time in the particular month, the change actually took place and whether the change happened at a particular date or there were a period of time where the two versions were mounted in parallel. Possibly this uncertainty was indeed intended, as there may not have been more detailed information available from the assembly lines about when a buffer stock of some part was depleted.
What do you do, then, if you have a car, which is actually produced during the month of a particular change? I know no other answer than looking at the car to see what is mounted. The example is from the Ami catalogue 486 from 1969.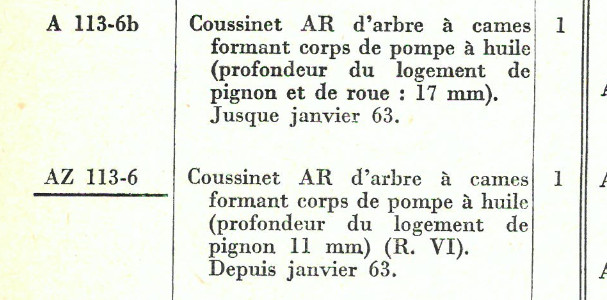 As of catalogue 562 from 1969 and onwards, new arrow symbols were introduced to denote "until" and "from", but the uncertainty about whether it is "until and including" or "from and including" or somwhere in between, still exists. There were, probably not sufficiently precise data available from the production about the many small buffer stocks of the different parts to do it more precisely.

In the middle of the 1970's, the arrows changed shape into a triangle ► which was placed in front of the month/year to denote "until" and after the month/year to denote "from". Here is an example from the 2CV catalogue 659 from 1975.
The uncertainty about when exactly in that month, the change actually happens, however, continues to exist.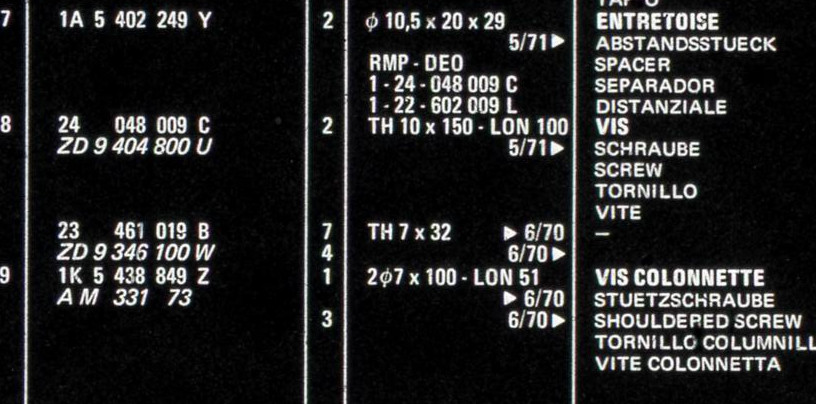 PR numbers
Around the beginning of 1981, Citroën introduces a new way of specifying change dates: The so-called PR numbers, where every day has its unique number. With the PR numbers, change dates could be given with an accuracy of a single day and at the same time it was defined that "until" meant "until and including" whereas "from" meant "from and including". The PR number is a four digit (nowadays five digit) number, which is shorter to write than the date in its usual form. Thus, ►1666 indicates "until and including PR number 1666" whereas 1667► means "from and including PR number 1667".
As you can see in the picture to the right, the original designation was "Numéro d'Organisation P.R.". PR stands for Pièces de Rechange (spare parts) and the PR number therefore means the "The spare parts organization's number(ing)". This is a bit long to write, so it was soon abbreviated to PR Number.

In French, this is often abbreviated to Numéro PR or (especially in Citroën's own publications) Numéro OPR.
I "export" markets like UK and Germany, it seems that from some time during the 90's they called this ORGA numbers.

The first usages of PR numbers I have seen, are in the GSA catalogue CAT001182 from 08/81, but this example is from the 2CV catalogue MIC001115 from 1984, which is chosen because it shows several things: The gear box 95 574 075 was used until and including PR number 1917 and replaced by 95 571 133 the following day, that has PR number 1918. If you know the PR number of your car, there is no doubt about what type is actually mounted. Furthermore, you can see the that the introduction PR numbers have not at all been comprehensive. Firstly, dates in the past were normally not converted to PR numbers, but secondly dates after the introduction of the PR numbers were also not converted to PR numbers. In this example you note that the old gear box continues to be mounted on vehicles with centrifugal clutch from PR number 1918 (2nd of February 1982) and until 7/83 (ie. July 1983)

The lowest PR number yet observed is 1515 which can be found in MIC001117. As Gert Bue Larsen has made me aware of, this is most likely a PR-numer constructed in retrospect. The example is the special large washer fluid container for the (West)German market, that appears in MIC001117 from 1991 to have been introduced at PR number 1515. In all previous catalogues, though, the introduction date for this part is noted as 1/81. The example here, is from MIC001116 from 1986.
Furthermore, this PR number corresponds to the 1st of January 1981, and as I am presuming that the production was not running on that New Years Day, this PR number rather seems to be a translation from 1/81 to a PR number than an actual technical date of the change.
It is tempting to believe that this was the starting date for the whole system of PR numbers. That, however, does not correspond with the fact that some tables of PR numbers published by Citroën also has PR numbers for the whole of 1980.


Around the middle of the 1990's Citroën starts to put a capital O in front of the PR numbers, obvoiusly to avoid confusion with other types of numbers. The letter O is likely an abbreviation of the abbreviation OPR, which is an abbreviation for "Numéro OPR", which in turn is an abbreviation for "Numéro d'Organisation P.R.", which again itself is an abbreviated way to write "Numéro d'Organisation Pièces de Réchange"...
The PR number 5105 is then written as O 5105, as you can see in this example from the AX catalogue MIC00262A from 1998.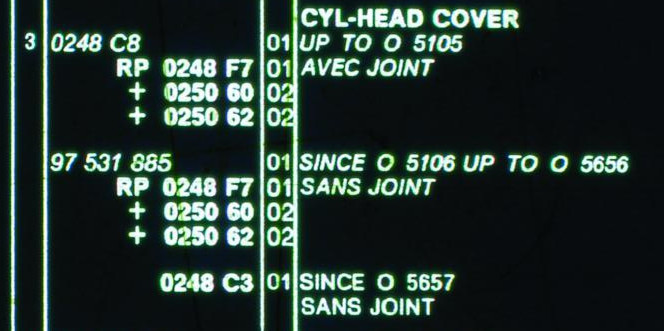 I french publications, the PR number is usually written OPR. This example is taken from a Xantia repair manaual from 2001.

Far from all change dates after the introduction of PR numbers are written using PR-numbers. It is a fair guess that not all production lines have had a sufficiently detailed management to do this. The C35 catalogue from 1998, for instance, does not contain a single PR number.

In the table below, the first PR number in each production month is listed.
Month
Year
1980
1981
1982
1983
1984
1985
1986
1987
1988
1989
1990
1991
1992
1993
1994
1995
1996
1997
1998
1999
2000
2001
2002
2003
January
1149
1515
1880
2245
2610
2976
3341
3706
4071
4437
4802
5167
5532
5898
6263
6628
6993
7359
7724
8089
8454
8820
9185
9550
February
1180
1546
1911
2276
2641
3007
3372
3737
4102
4468
4833
5198
5563
5929
6294
6659
7024
7390
7755
8120
8485
8851
9213
9581
March
1209
1574
1939
2304
2670
3035
3400
3765
4131
4496
4861
5226
5592
5957
6322
6687
7053
7418
7783
8148
8514
8879
9244
9609
April
1240
1605
1970
2335
2701
3066
3431
3796
4162
4527
4892
5257
5623
5988
6353
6718
7084
7448
7814
8179
8545
8910
9274
9640
May
1270
1635
2000
2365
2731
3096
3461
3826
4192
4557
4922
5287
5653
6018
6383
6748
7114
7479
7844
8209
8575
8940
9305
9670
June
1301
1666
2031
2396
2762
3127
3492
3857
4223
4588
4953
5318
5684
6049
6414
6779
7145
7509
7875
8240
8606
8971
9335
9701
July
1331
1696
2061
2426
2792
3157
3522
3887
4253
4618
4983
5348
5714
6079
6444
6809
7175
7540
7905
8270
8636
9001
9366
9731
August
1362
1727
2092
2457
2823
3188
3553
3918
4284
4649
5014
5379
5745
6110
6475
6840
7206
7571
7936
8301
8667
9032
9397
9762
September
1393
1758
2123
2488
2854
3219
3584
3949
4315
4680
5045
5410
5776
6141
6506
6871
7237
7602
7967
8332
8698
9063
9427
9793
October
1423
1788
2153
2518
2884
3249
3614
3979
4345
4710
5075
5440
5806
6171
6536
6901
7267
7632
7997
8362
8728
9093
9458
9823
November
1454
1819
2184
2549
2915
3280
3645
4010
4376
4741
5106
5471
5837
6202
6567
6932
7298
7663
8028
8393
8759
9124
9488
9854
December
1484
1849
2214
2579
2945
3310
3675
4040
4406
4771
5136
5501
5867
6232
6597
6962
7328
7693
8058
8423
8789
9154
9519
9884
My most plausible theory is that the system apparently was started with number 1001 on Monday the 6th of August 1979, and from there on incremented by one for every single day - irrespecitve of weekends, holidays and leap days. It looks as though the cars have been marked with PR numbers some time during the model year 1980 and the earliest PR number found so far is 1515 in the catalogue MIC001117, corresponding to the 1st of January 1981.
You can also calculate it yourself here:

One of the more esoteric theories of how this numbering came to be, can be found on monter-piece-auto.com, where they speculate that every french child learns in school that King Louis XII who was called "Le Père du Peuple" and is also known from Michiavelli's "The Prince" and other light classics, actually died on the 1st of January 1515, and therefore, it is supposedly simple to remember that the system started with 1515 on the 1st of Januar 1981.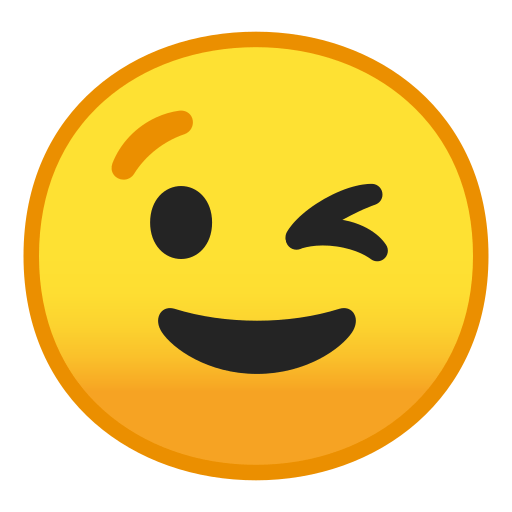 Correlation between chassis numbers and production years
When you need to determine when a Citroën was produced, the classical method have been to do this on the basis of the chassis number. Other good Citroën enthusiasts, most notably Jens Møller Nicolaisen and Gert Bue Larsen, have done a lot of studies into this field, and found that this method is far from precise, unless you have access to the production protocols. They were accessible for a while at the Citroën conservatoire in Aulnay, but nowadays they are kept in the new "super archive" of the PSA group at the Hérimoncourt location, near Sochaux in the east of France. There, they are - alas - only accessible to the people working there. Even if you have access to the production protocols, there may still be some uncertainties, as some assembly plants (such as the one that was in Denmark) did not always put the chassis numbers in the cars sequentially.
The only option these days is to make a request for a single car to "the factory" via the importer and pay a fee for this, such as you have to do if you have an import car without papers you want to register. Such a request can give you the production year, but not always the date.
Otherwise, the common method is to look at the lists of chassis numbers issued by Citroën - mostly in circular letters (notes techniques). This was in 1959 summarized in manual 425 - Mémento Technique - of which you can see a page below. But again a warning: The information in this manual has (according to Jens Møller Nicolaisen) proven to contain quite a lot of errors and inaccuracies, so please take the information therein only as a rough guide. We are many, who are looking forward to the book about this exhilarating subject, that he plans to publish - hopefully soon.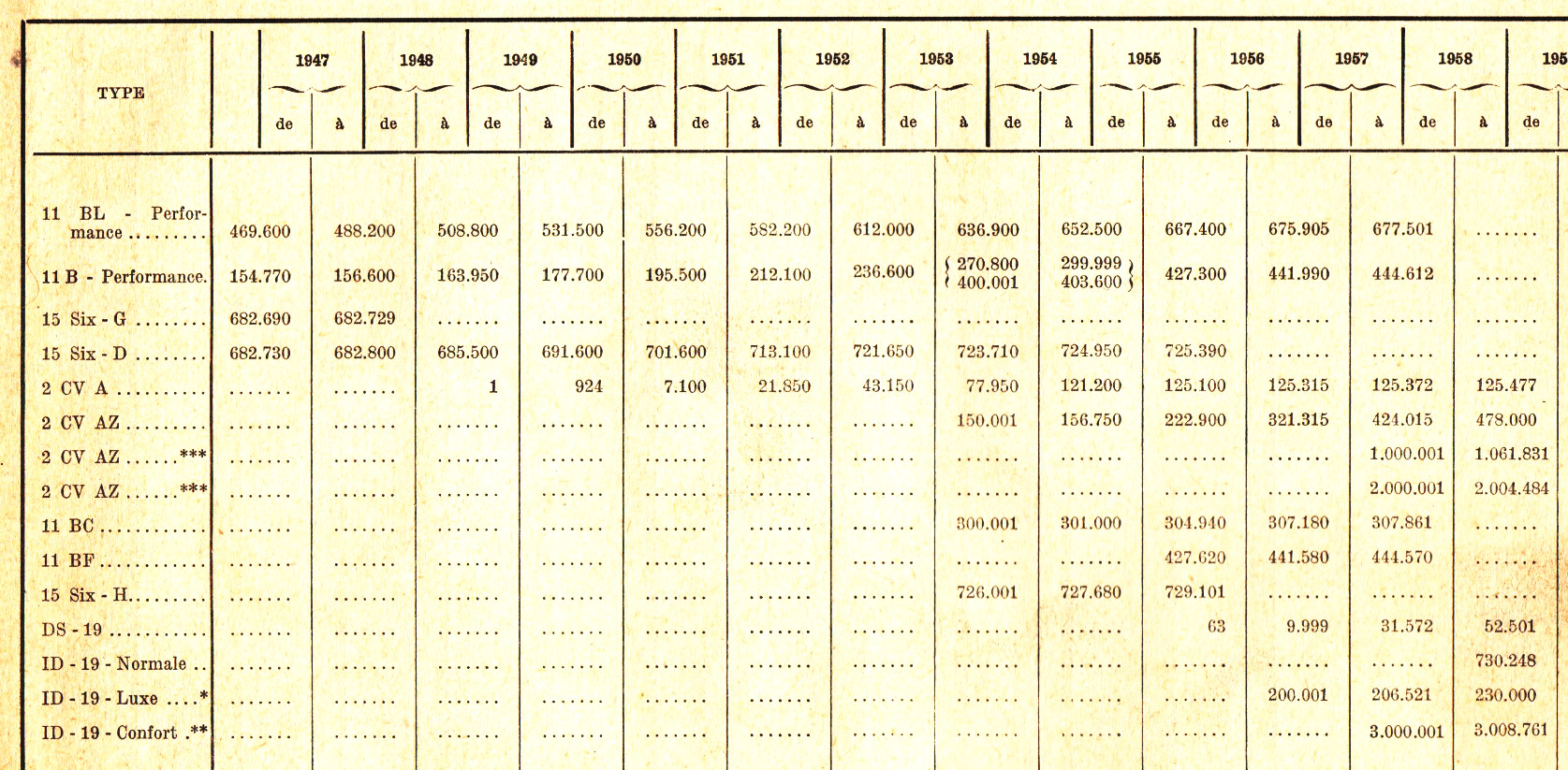 Here is another example from a circular letter (Note Technique no. 47) from November 1973, where you can see (in column 4) the first chassis numbers of model year 1973 for the various models.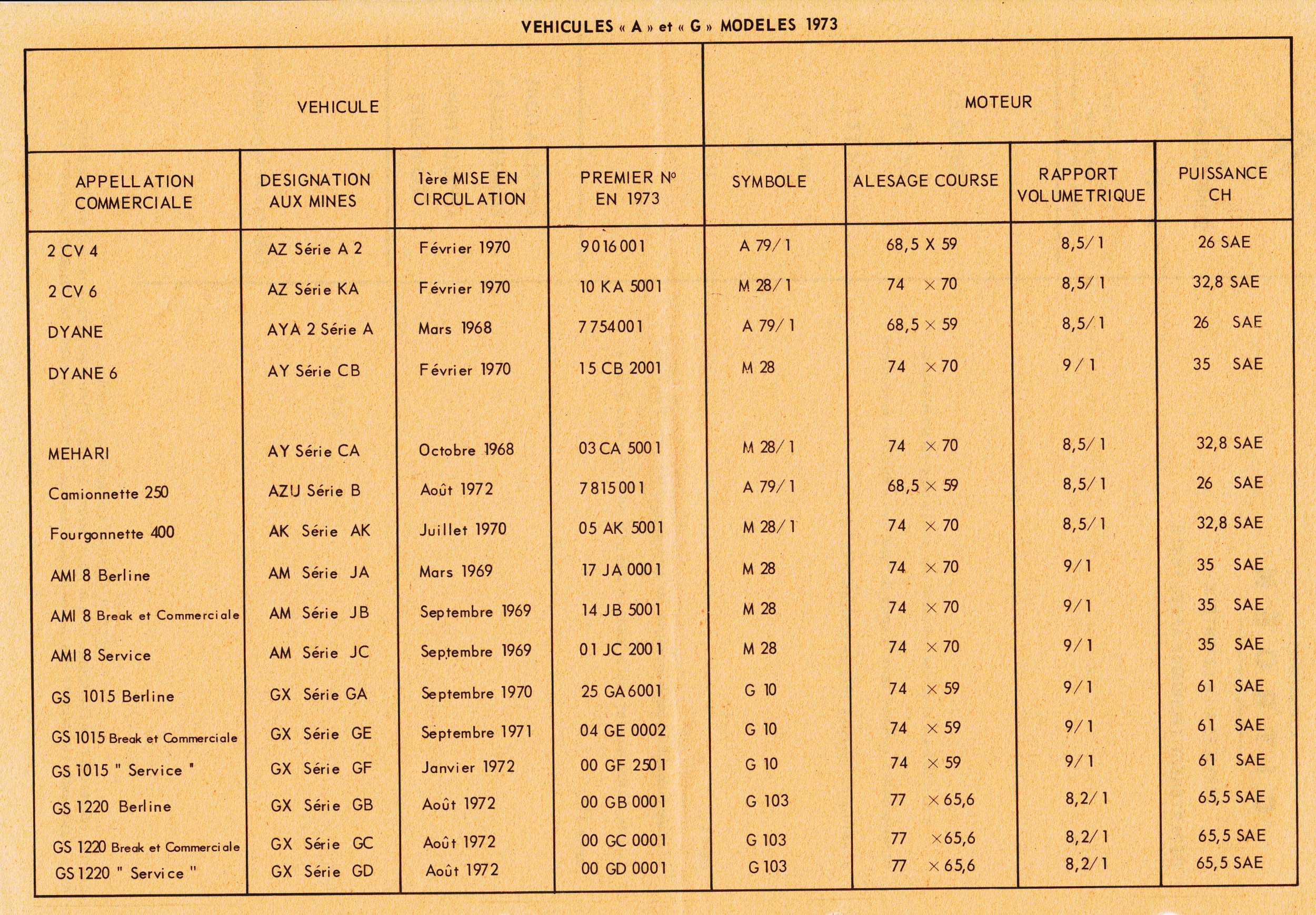 A good example of compiling the information about the correlation between chassis numbers and production years from technical bulletins was made by Jeroen Cats some years ago.
Production time markings on the cars
Markings on the cars denoting production year, production date or some form of sequence number to mark changes in the particular model were also used prior to the system of PR numbers. This is not only due to the need for ordering the correct spare parts for the car, but also due to legislative demands in various countries for precise limits for type approvals, which makes it possible at for instance an inspection to determine whether the car must have headlight washers, asbestos-free brakes etc.
An early system is found on 2CV from some time in the 1960's to at least 1970. Stamped in paint on the bulkhead you find two digits (the date), a letter (the month, A=January etc.) and a single digit (the last digit of the year). In this example, the car is thus produced on the 23rd of June 1970. Actually, the owner of this paricular car has obtained a certificate from the factory stating the production date as the 24th of June, but generally, there is no doubt about this system, which is also described in several other places. It would, however, be very nice if it was possible find some Citroën documentation which might also shed light on when the system started and ended, whether it was limited to the Levallois factory and 2CV, to specific markets etc. All information about this would be much appreciated.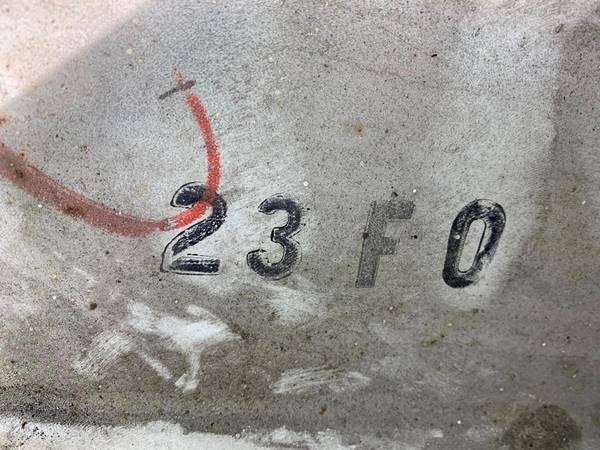 From model year 1977, the chassis number plates had a raised square for punching in the last two digits of the model year. It has probably been there for commercial or approval purposes for all cars in certain countries. For the A-models, this is documented in Note Technique 187-A from 1976 and there is a description of it in Le Double Chevron no. 45. A couple of examples are shown here.
Even though the mentioned technical bulletin states that this applies to all countries, this is not correct. Danish cars have for instance not had this kind of year model markings. It seems, however, to have been used for commercial or approval purposes for cars sold in France and possibly certain other countries.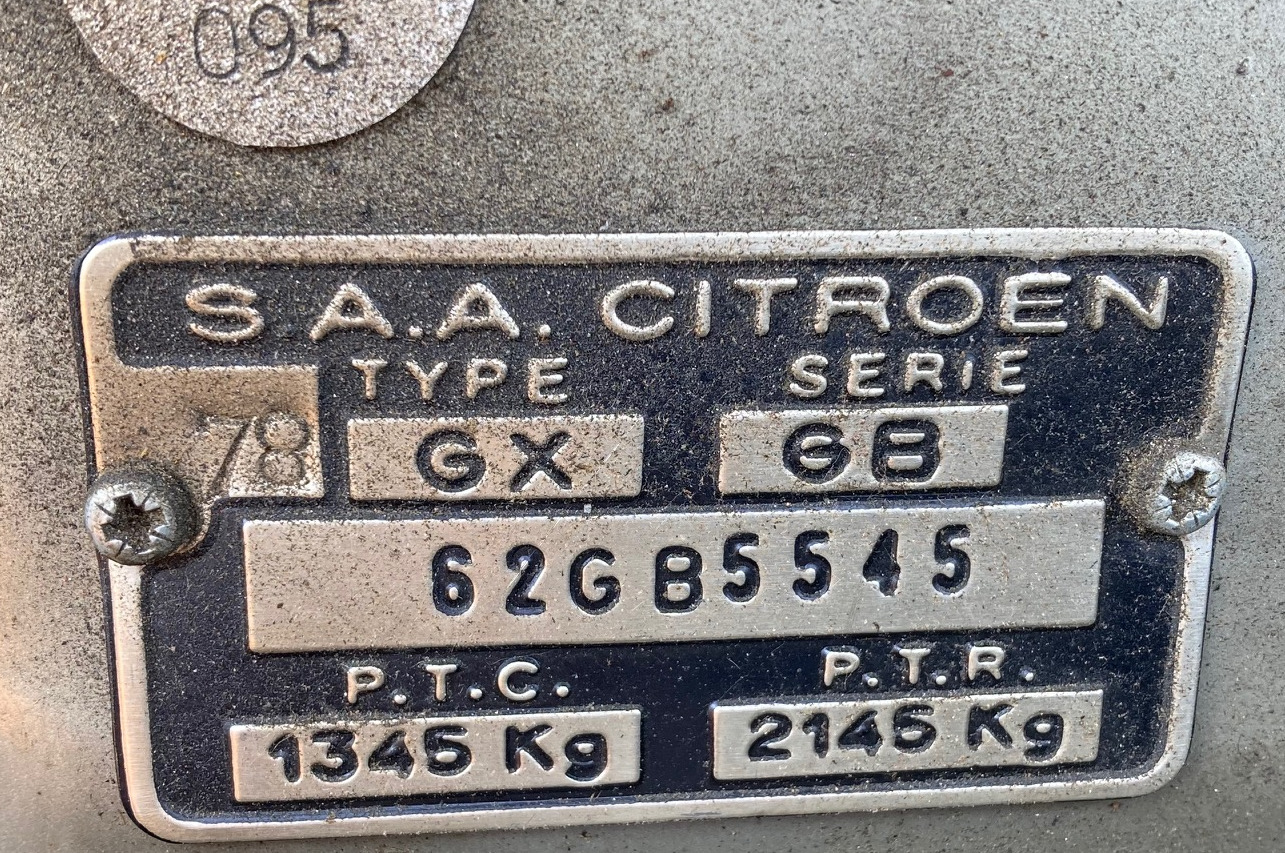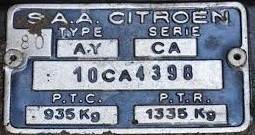 An EEC directive (78/507/CEE) made it mandatory to have uniform chassis number plates, and this was implemented by Citroën starting with the model year 1981 as described in Note d'Information No. 80-93-TT from 1980.

On this new EEC-plate, there is no field for the model year, and in the countries that had a demand for this, the marking of the model year continued instead as a paint stamp with the letters AM 82 (for year 1982) in a circle. AM is an abbreviation for année modèle, ie. year model.
As previously mentioned, it is not clear in what countries these two kinds of year model markings have been used, and whether it was the same countries for both kinds. All input and observations about this would be much appreciated.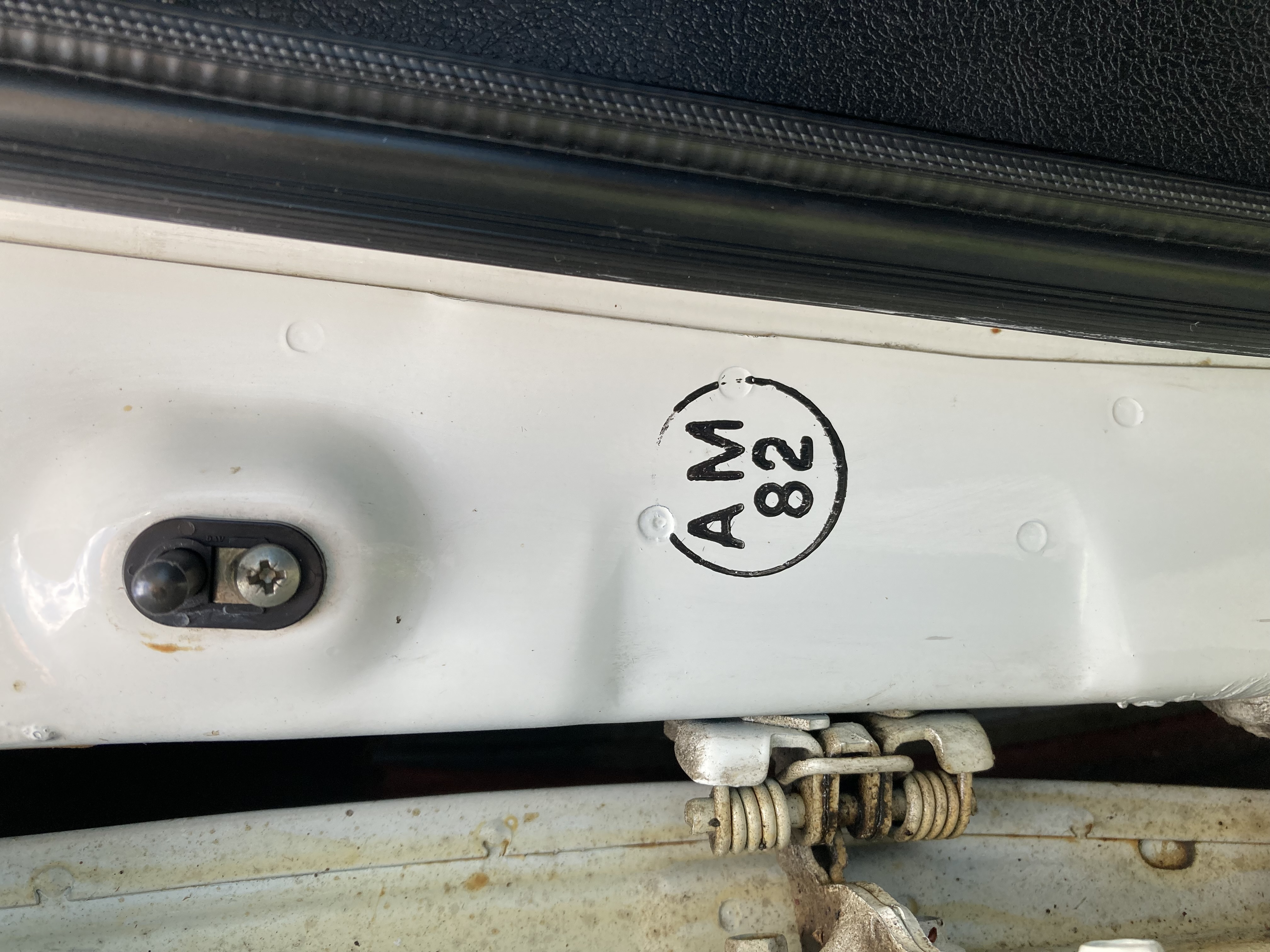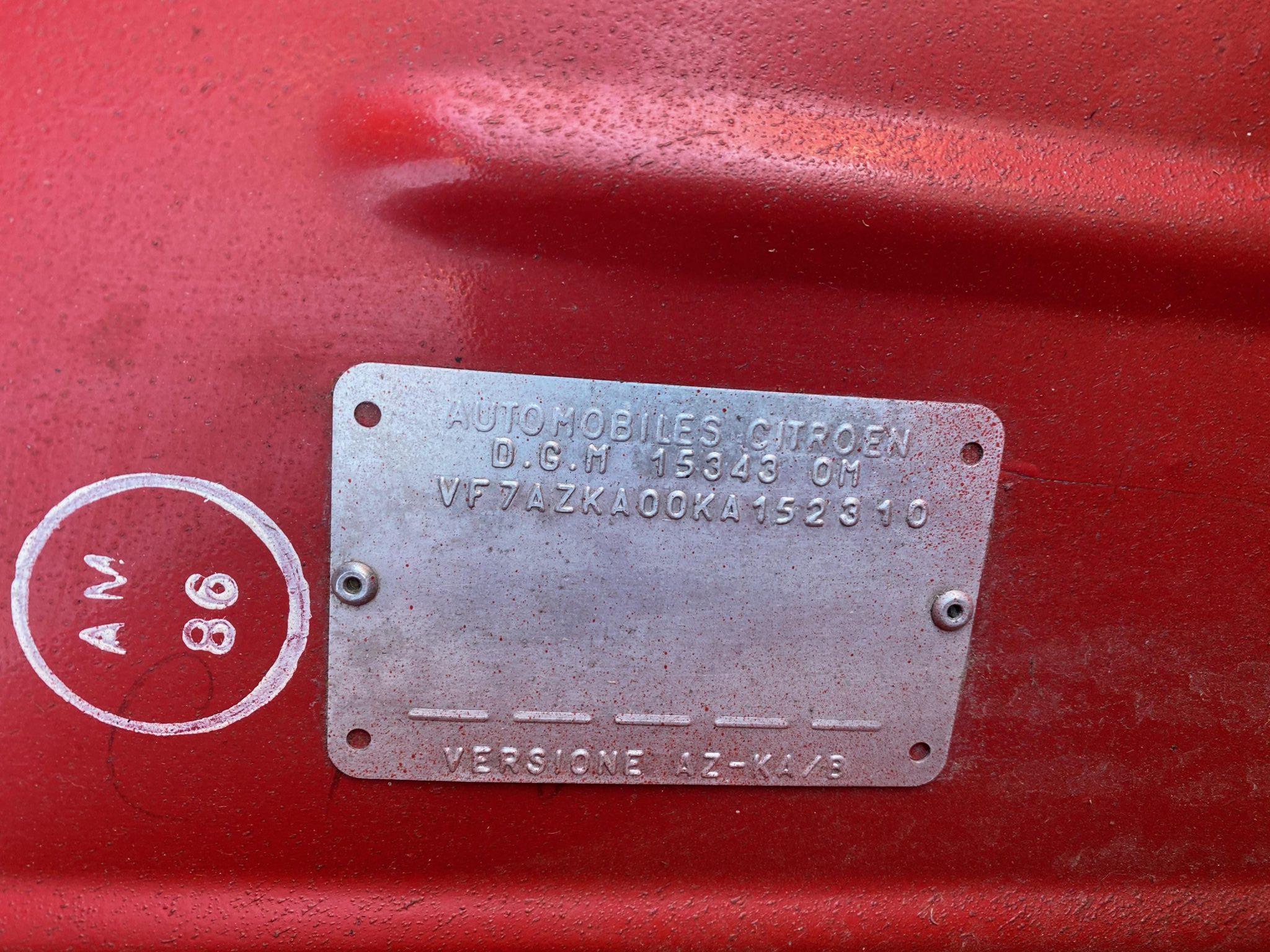 Apparently, there was a need for a more precise way to specify the production dates when technical changes to the models were introduced, and therefore, the so-called PR numbers were introduced. They are already explained previously in this article.
The PR number started to be stamped in the cars around 1980 - maybe in the beginning of 1981. Observations from all of you who are reading this, with examples of PR numbers or lack thereof would be very much appreciated. Please send photos!
The PR number is typically stamped in paint on the bulkhead (or a similar place) together with the colour code. The digits are around 3cm in height and may remind you a bit of a potato stamp from your childhood. On cars painted in a dark colour, the PR number is usually beige, whereas it normally in black when the car has a bright colour.
Often, it is not easy to find the PR number due to rustproofing, rust, dirt and aging. Three examples: A 2CV from 1986, a 2CV from 1988 where you can also see the stamp with the year model, and a GSA from 1982.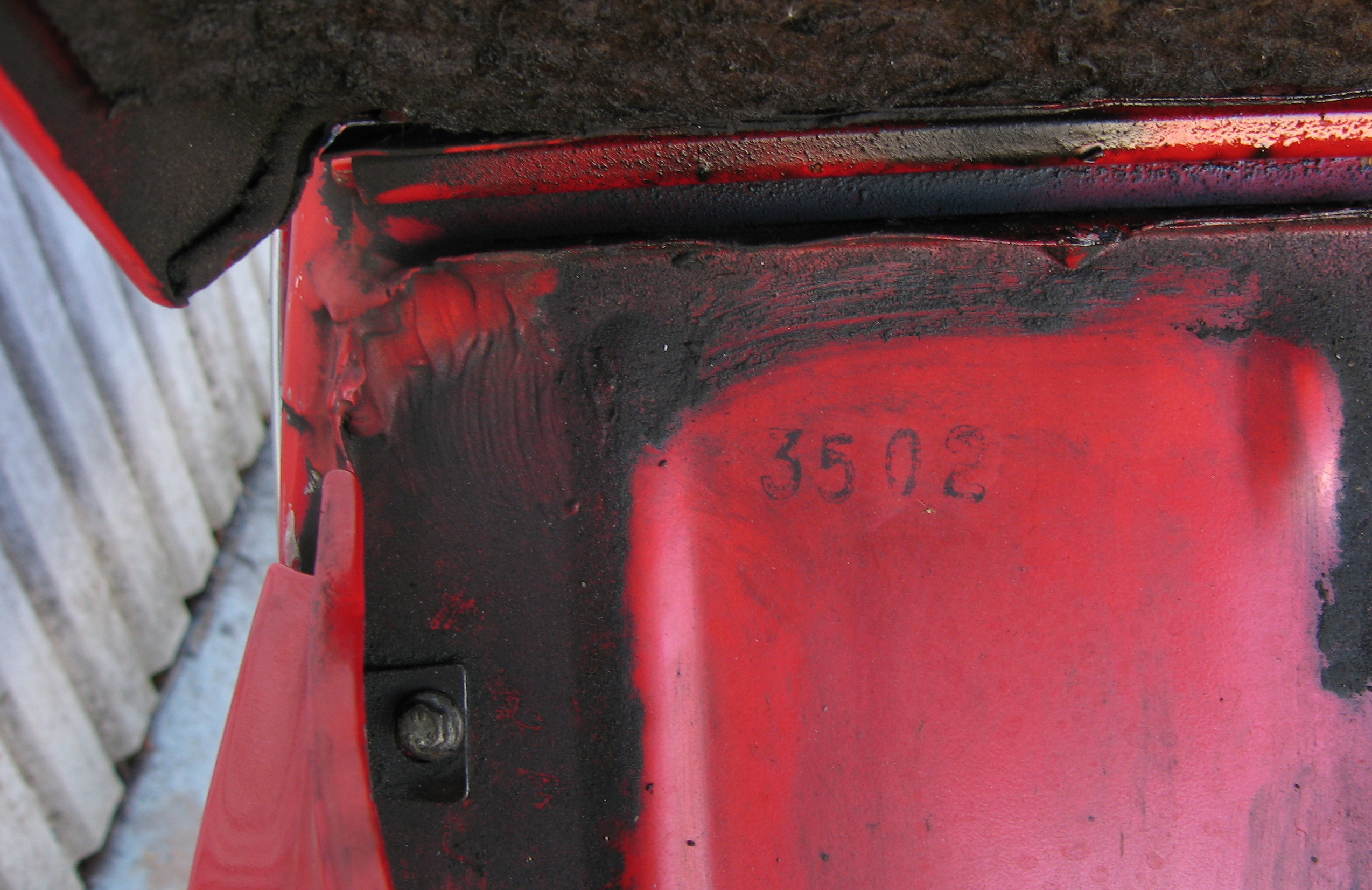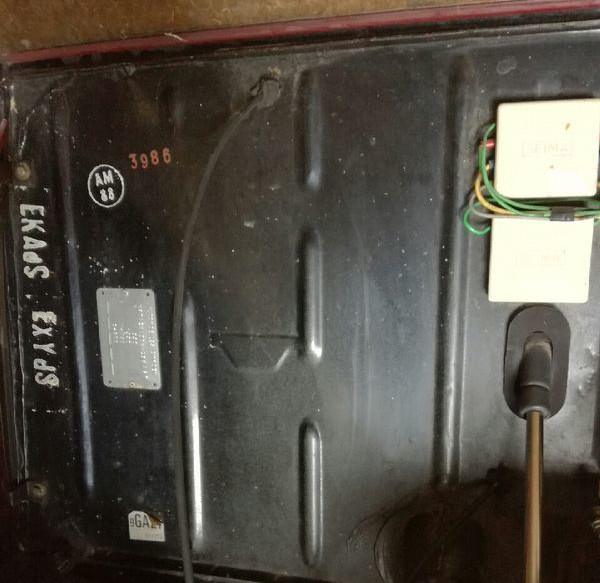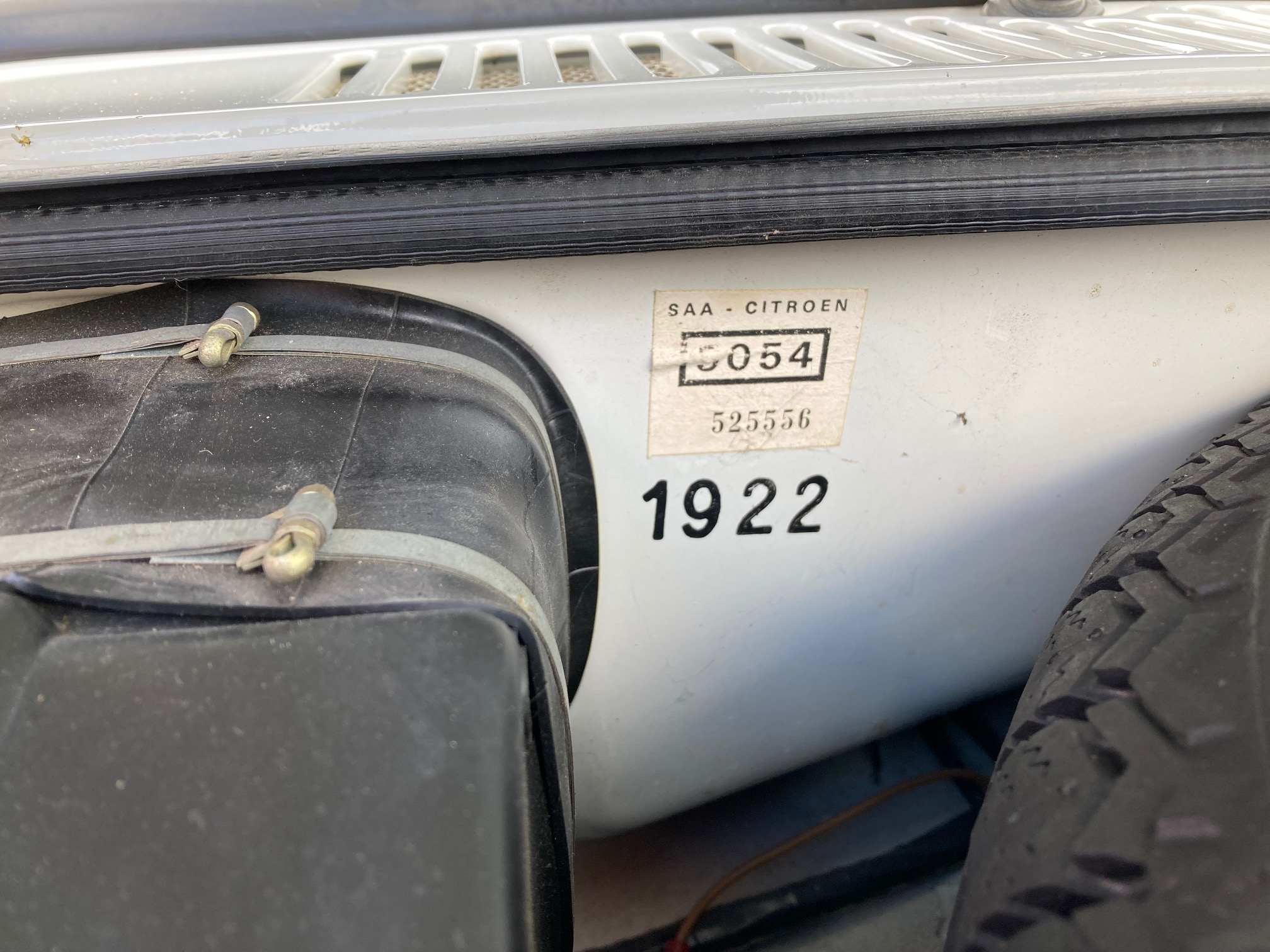 More examples: An LNA with PR number 1534 placed on the left suspension turret and a Visa, produced only 9 days later. On this model, however, the PR number is apparently placed on the right side.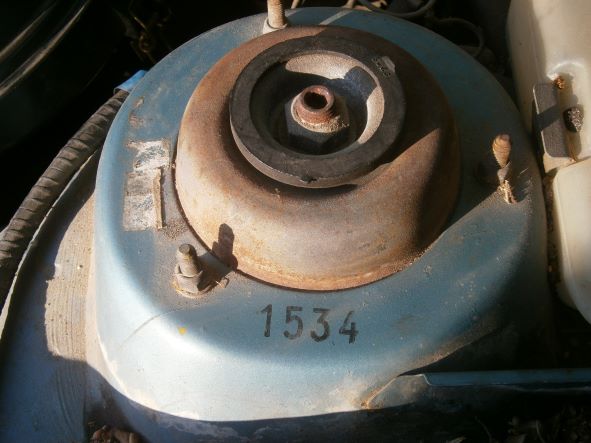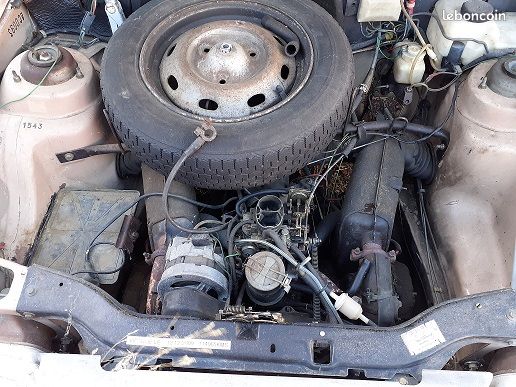 Generally, the PR number stamp is put at a place where it is protected from rust and weather, at a valence plate under the bonnet or at a doorpost, as you can see in the following table, the contents of which are partly taken from a web page made by Jint Nijman. Later, some time in the second half of the 1990's, the paint stamp was replaced by a printed sticker.
| Model | Placement of PR number |
| --- | --- |
| 2CV + Dyane | On top of the bulkhead, right hand side |
| AX | On the left hand side suspension turret |
| Berlingo | On the right hand side suspension turret |
| BX | On the A-post (in front of the front door) on the driver's side just below the upper hinge, next to the sticker that specifies the tyre pressures. |
| C5 | On left A-post |
| CX | On the front of the left hand side suspension turret, usually hidden by wiring. |
| Evasion | On the chassis just in front of the inner right front wheel arch |
| GSA | On the right inner front wing - later on the bulkhead besides the fuse box |
| LNA | On the left suspension turret |
| Saxo | On the right hand side suspension turret. |
| Visa | On the right hand side suspension turret. |
| Xantia | On the bulkhead just in front of the right -front- suspension sphere (quasi below the front window). At that position one finds the color-code (a letter code) and, in smaller characters above that, the PR number. |
| Xsara | On the right hand side suspension turret |
| XM | On the left A-post. |
| All others | At the left A-post, the wheel arc under the bonnet or on the bulkhead somewhere. |
Code
Factory
Country
A2
CENTRE HILLS ANGLETERRE
UK
CA
CENTRE AULNAY
France
CB
CENTRE RENNES BT
France
CC
CENTRE DE CAEN
France
CH
CENTRE DE CHARLEVILLE
France
CJ
CENTRE RENNES-JANAIS
France
CP
CENTRE CHINE CKD AC
CS
CENTRE DE ST OUEN
France
CV
CENTRE MEUDON
France
CX
CENTRE ASNIERES
France
FL
CENTRE DE MANGUALDE
Portugal
FP
CENTRE DE PINTO
FT
CENTRE DE TREMERY
FV
CENTRE DE VIGO
Spain
FW
CENTRE DE METZ
France
G5
CENTRE DE DOUVRIN
France
G8
CENTRE DE CREIL
France
G9
CENTRE DE GENEVILLIERS
France
UB
CENTRE DE NEWCO
UC
CENTRE DE OLCIT
UD
CENTRE DURISOT
UF
FORD
UG
GRUAU
UH
KALUGA
UJ
JAGUAR
UK
CENTRE CIMOS
UM
CENTRE MITSUBISHI
UN
CENTRE FIAT VILLANOVA
UO
CENTRE TOFAS
US
CENTRE SUZUKI
UT
CENTRE KOLIN
UV
VOLVO
UW
CENTRE DE WUHAN
UX
XIANG-FIANG
UY
CENTRE MAGNA STEYR
UZ
CENTRE KARSAN
U1
FIAT
U3
CENTRE DE PANHARD
France
U4
Dangel (4 wheel drive)
France
U5
CENTRE PININ FARINA
U6
CENTRE DAIMLER
U7
CENTRE HEULIEZ(Some Breaks, AX + Saxo-Electrique)
France
U8
CENTRE SEVEL SUD
Italy
U9
CENTRE SEVEL NORD (Valenciennes)
France
YA
CENTRE INDONESIE
YB
CENTRE CHILI
YC
CENTRE NIGERIA
YD
CENTRE URUGUAY
YE
CENTRE KENYA
YF
CENTRE ZIMBABWE
YG
CENTRE TURQUIE
YH
CENTRE POLOGNE
YI
CENTRE IRAN SAIPA
YJ
CENTRE EGYPTE
YK
CENTRE THAILANDE
YL
CENTRE MALAISIE
YM
CENTRE RUSSIE
YN
CENTRE IRAN KHODRO
YP
CENTRE MAROC
YQ
CENTRE MALAISIE GURUN
7B
BARUERI BRÉSIL MAG PR
7D
FRANCAISE DE MECANIQUE
71
GEFCO
72
HERIMONCOURT
France
73
NANTERRE
France
74
CENTRE DE VALENCIENNES
France
75
SFME
76
SLOVAQUIE TRNAVA
77
ARGENTINE BUENOS AIRES
78
BRESIL PORTO REAL
8E
CENTRE DE SEPT FONS
8F
CENTRE SHERPA
8M
CENTRE DE MELUN
81
CENTRE DE POISSY
82
CENTRE DE MADRID
83
CENTRE DE RYTON
84
CENTRE DE DIJON
France
85
CENTRE DE VESOUL
France
87
CENTRE DE LILLE
France
88
CENTRE DE MULHOUSE
France
89
CENTRE DE SOCHAUX
France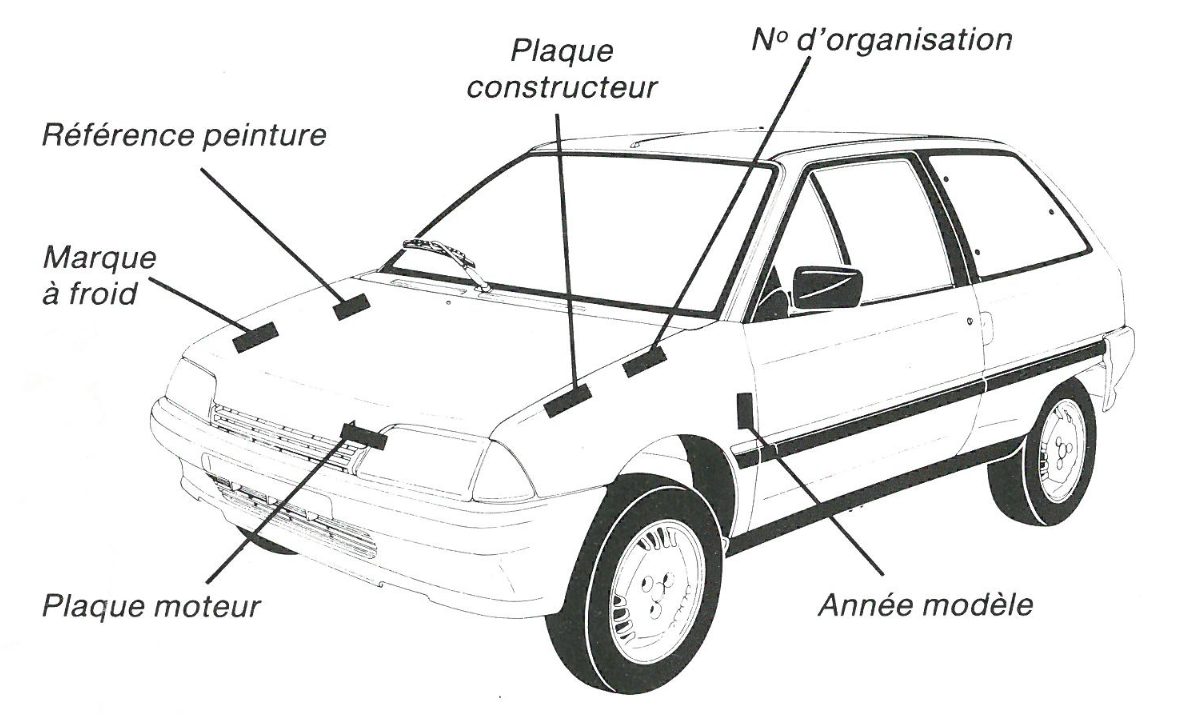 In many of the manuals and technical bulletins, it is documented where you are supposed to find the various identification marks. This example for the AX comes from the manual TPS008921 and the PR number is called "No. d'organisation". Be aware, though, that this documentation is not always accurate for the whole production span of a particular model.
From some time in 1994, besides the PR number, there is also a 2-character code indicating the factory where the car was built. This is compiled in the table below (again with data primarily from Jint Nijman and
monter-piece-auto.com
). For the sake of completeness, this is a long list of all PSA locations and principal partners. Citroën cars have not been produced in all of these places. In the table, CENTRE means factory.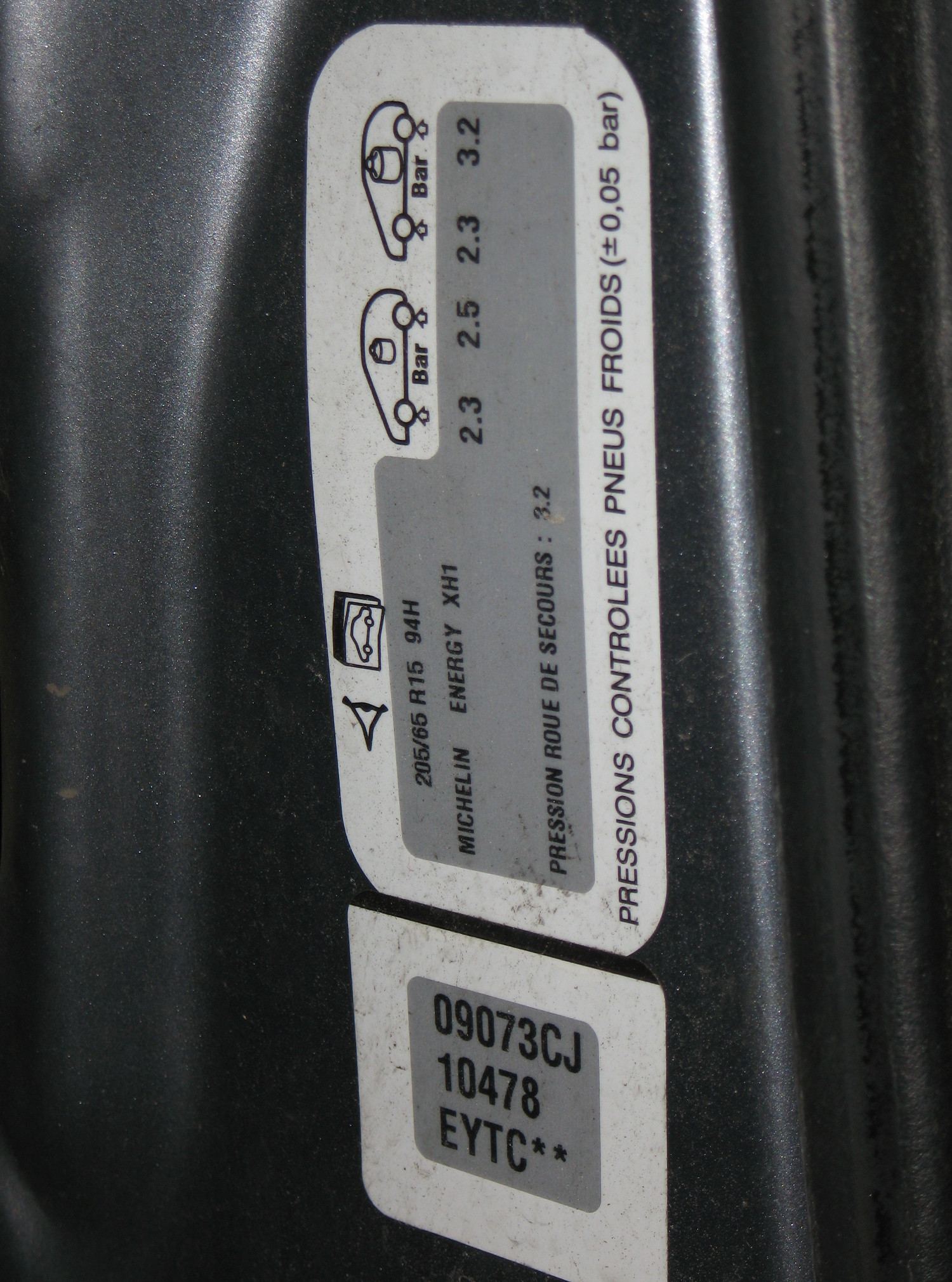 In the picture to the right, which shows the A-post on a C5, you can see that the PR number is 09073, corresponding to the 11th of September 2001 and that it is assembled in the Rennes-la-Janais factory.
What is then the meaning of the number in the next line? Gert Bue Larsen has done some research research into this and found a very convincing theory: The first digit is probably the number of the assembly line and the next four digits is the number in the sequence of produced cars in that assembly line on that day. This sequence number re-starts from 1 every morning.
In this example, the number 10478 is then to be read 1 0478, meaning that the car is assembled in line 1, and in this assembly line, it is the 478th car produced that day. Sequence numbers are observed from 0001 and at least up to 0726. It may seem as many cars in just one day, but when you consider the total production at the Rennes factory is around 340.000 cars per year, it is after all probable that the counter re-starts every day.
Finally, there is the colour code EYT (which is the metallic grey colour named gris orageux), followed by C**. We have a theory that C** has something to do with the producer of the paint, but it will take more research to verify that.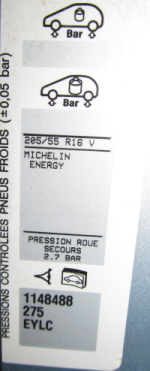 Another example of an A-pillar sticker from a C4: The number in the first line 1148488 may seem a bit long and confusing, but the rule still applies that the last two characters are the factory code - 88 for Mulhouse. The PR number is then 11484, which is the 18th of April, 2008. On that that day, it was the 275th car produced, and as the factory in Mulhouse only has one assembly line (it is "mono-flux"), there is no digits used to indicate the assembly line.
A bit off-topic for this article, we also notice that the colour is EYL Gris Iceland, followed by a "C", which we still guess indicate the paint manufacturer.
In the PSA lingo, this collection of PR number and factory code is called DAM (Date d'Application de Modification).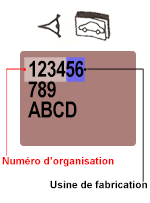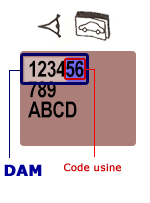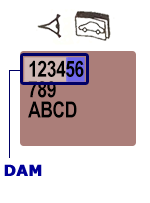 "Italian" timekeeping
Especially for C25, it may look as though there is also some other system of timekeepling at play. In the catalogue MIC00224A from 1995 you find the usual month/year dates as well as the usual PR numbers. Simultaneously, however, there are some time indications consisting of an O plus 5-6 digits that are far too high to be the usual PR numbers. In this example, you see all three kinds of time indications, including the number O 172000, which, according to normal PR/ORGA timekeeping would be in the year 2447.

Hence, you could get the idea, that the Sevel Sud factory in Italy has another form of timekeeping, that could have started on for instance 100000 at another date, and still incremented by one each day, but this theory is refuted by an example like this, where the numbers stretch from 121750 to 587273.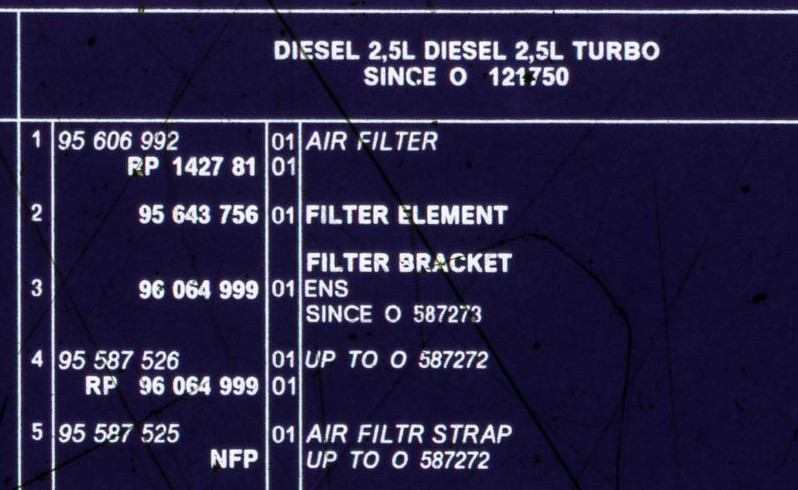 The explanation is found in some of the circular letters, for instance Note Technique chapter 7 no. 4 from June 1989, shown here on the right. Here, it is described that there is a change of the front wheel hub from chassis number 604497. The new hub has the spare part number ZF 07 657 422. Looking that up in the catalogue MIC00224A from 1995, you find that it says "SINCE O 604497", consequently meaning "since chassis number 604497".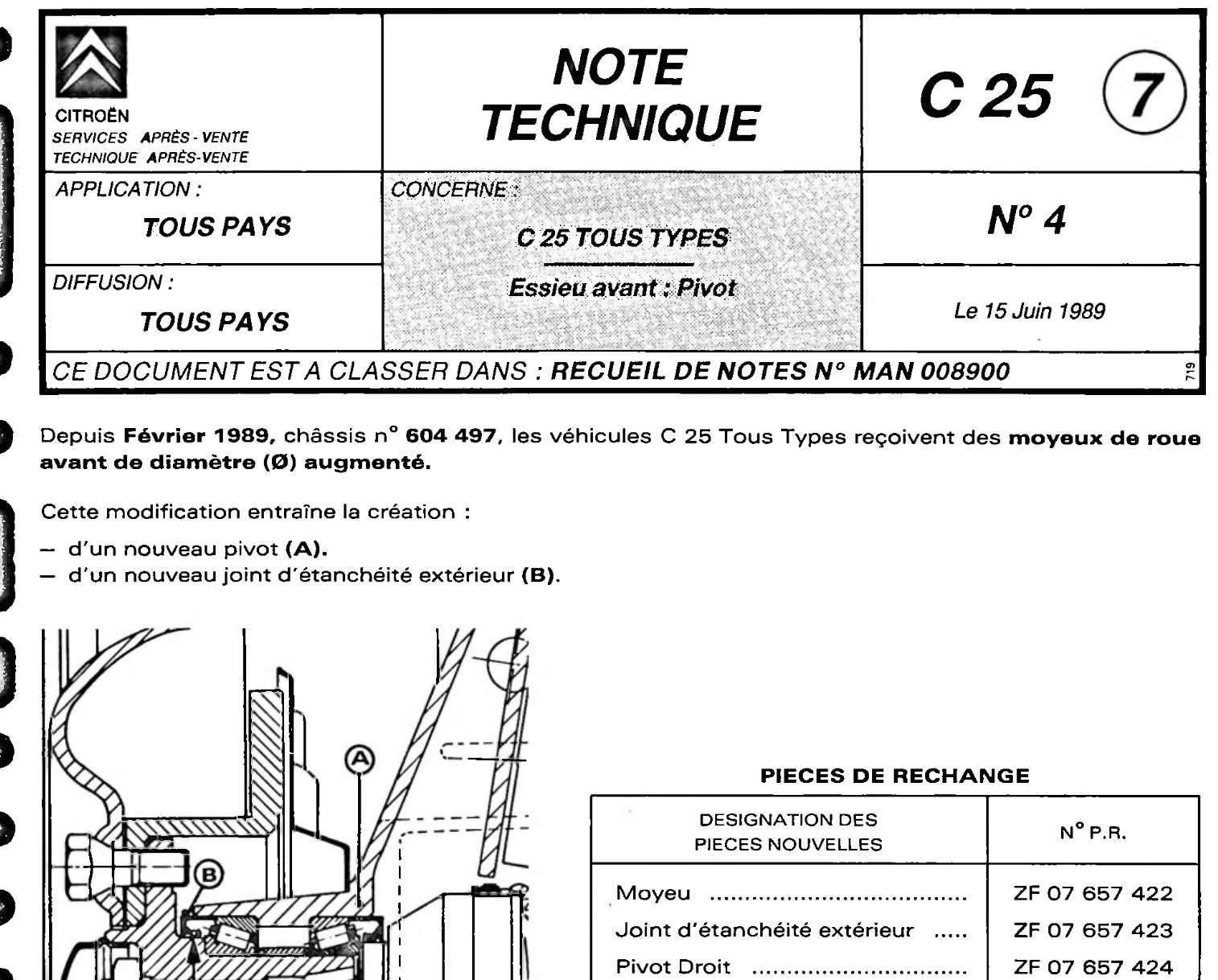 In a later version of the same catalgue MIC00224A from 1998, the letter in front of the mysterious time indications is corrected from O to S, as you can see in the example to the right. This refers then to chassis numbers, which are used as is, rather than translating them into PR numbers - probably because Fiat prefers chassis numbers to indicate changes in the production.
The letter S is probably used to signify "chassis number" as an abbreviation of "Serial number".
There is - after all - no mysterious "Italian" timekeeping, but just an error throughout the 1995 edition of MIC00224A, where both PR numbers and chassis number have been prefixed with an O.

Even motors and gear boxes may have numbers
It is no novelty that motors and gear boxes are fitted with a plate with their own special serial number. From the middle of the 1990's, however, supplementary to numbers beginning with O and S, numbers of the form M or B + 7 digits begin to appear in the spare parts catalogues, denoting motor numbers and gear box numbers. B is short for Boîte de vitesses.
It is normally the same system as for the PR numbers where "up to" means "up to and including" and "since" means "since and including", as you can see here in the first example.
There are, however, a few exceptions to this rule, as shown here in the second example: The old type bush is mounted up to B 5044404 and the new type is mounted from the same number. When I mentioned a similar issue in the beginning of this article, the lack of precision concerned a whole month, whereas the problem is not as great here, since there can only be (at most) one single car in the whole world where you may be in doubt what to fit.
Both examples are from the first catalogue where I have observed the B numbers, the Xantia catalogue MIC00290A from 1996.


Motor number are used even less than gear box numbers, but examples of this exist - like in this Jumper catalogue MIC00300A from 2002.
In the catalgues from 2002 and onwards, the symbols explanation page in the beginning of the catalogues is also updated to reflect these two new types of numbering - long after they have been introduced.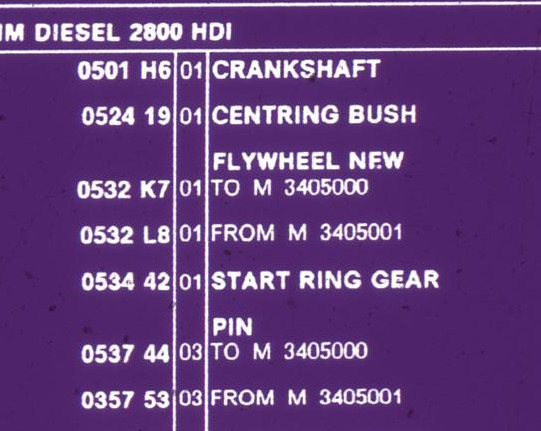 A couple of imported sequence numbering systems
Other manufacturers than Citroën had the same need for some kind of sequence numbering (other than the chassis number) in a similar manner as the Citroën PR number. Gert Bue Larsen has found a couple of instances where such numbers find their way into Citroën documentation because the cars were assembled in other factories than Citroën's own:
So-called normalized CX ambulances ...
I et senere cirkulære nævnes at NP 1216 H er det første nummer i årgang 79. Nummerets stigningstakt tyder på at det ikke er et stigende nummer for hver dag, men måske nærmere et stigende nummer for hver bil. Omkring 1000 ambulancer på 1½ år lyder vel sandsynligt for et stort land som Frankrig samt måske noget eksport.
I MIC000191 kan man med lidt fantasi genfinde sådanne numre på de ambulancespecifikke sider. Det må være Heuliez som har lavet de normaliserede ambulancer og indført disse numre, idet numrene i reservedelskataloget hedder fx. HZ 608, HZ 653, HZ 1213 og HZ 1216.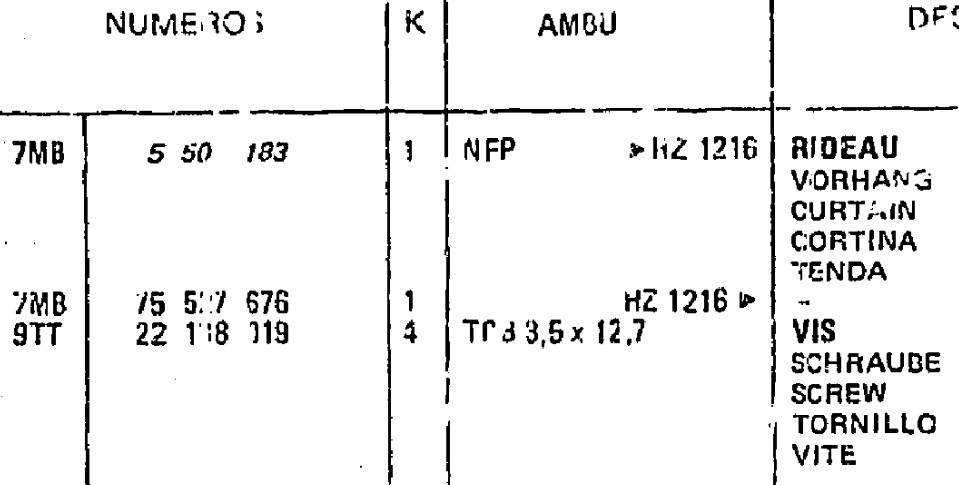 C35 har også et særligt "Numéro d'Organisation" som er omtalt første gang i Note Technique No. 4-C fra d. 12/3-75.
I maj 1976 (i Note Technique no. 9 C) nævnes Numéro d'Organisation 00WF16302, og der er adskillige andre WF referencer gennem cirkulærer i de følgende år.
Det slutter i 1990 (Info Rapid C35-14-3) med info om at nummereringen, som blev indført i 1975, slutter med WF150000 den 29/11-89, og erstattes af PR4770 fra 30/11-89.
Da det lyder det sandsynligt med 150.000 stk. C35 på cirka 15 år, er det rimeligt at gætte på at denne WF-nummerering ogs&aring er et nummer pr. bil
Det er sjovt at man i 1975 beskriver hvordan WF-nummeret vil lette reservedelsbestillingen, men i de tilgængelige reservedelskataloger har vi ikke fundet spor af WF numre. Det er et af mange mysterier...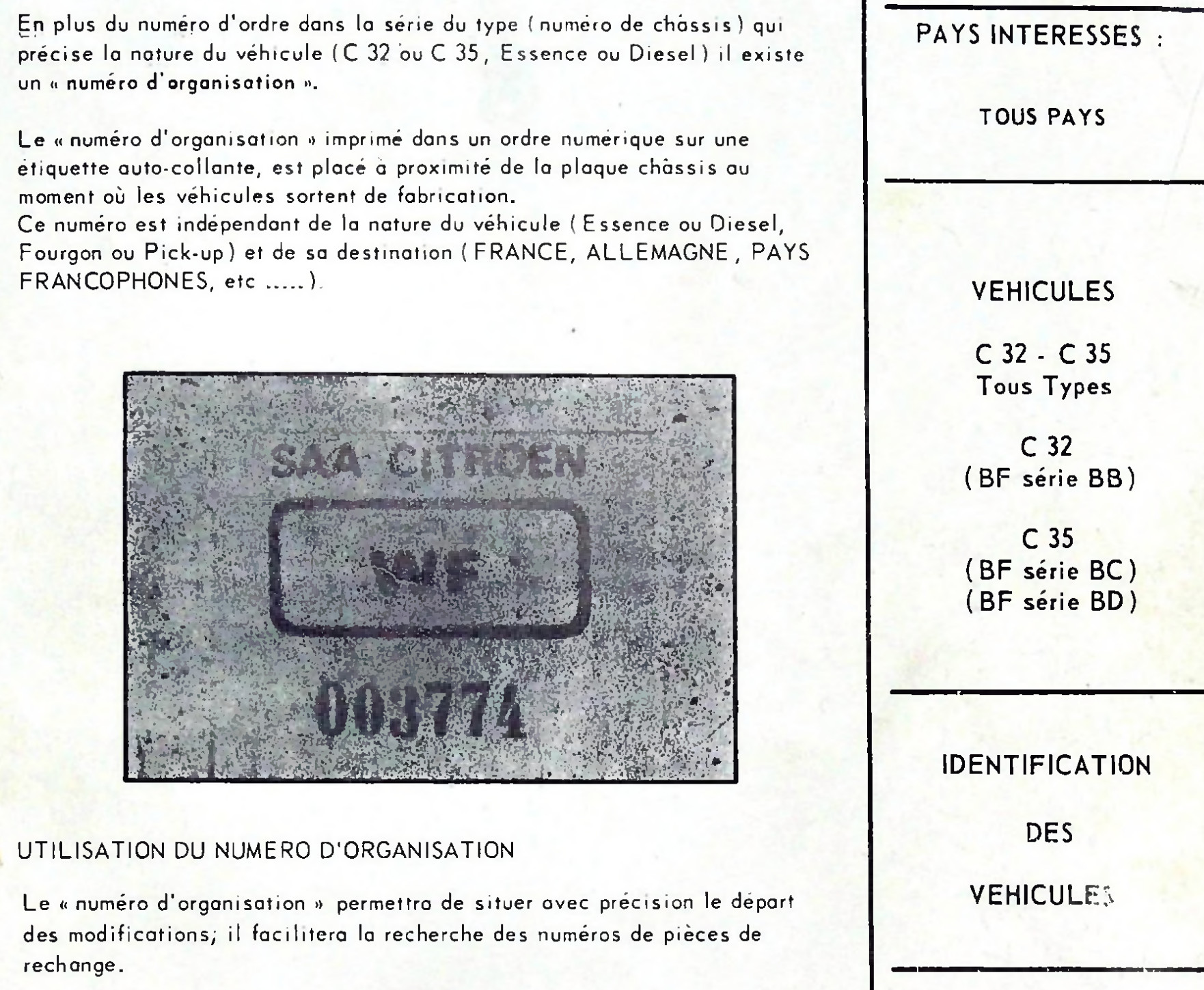 Citroën var altså ikke de første til at opfinde en fortløbende nummerering i deres produktion. Måske er det endda systemer som disse to, der inspirerede Citroën til at indføre det generelle PR-nummer system.